When the staff at Big Dog Ranch Rescue (BDRR) first heard about a 20-year-old Weimaraner named Dax, who was recently surrendered by his family, they instantly fell in love. The dedicated rescue team serves all kinds of pups, but Weimaraners have a special place in their hearts.
"Our founder began Big Dog Ranch Rescue because she was an avid Weimaraner lover," Natalie Rubino, BDRR's digital marketing director, told The Dodo. "That's how the ranch started — through Weimaraner rescue in Florida. Anytime we see a Weim, we'll help out. But this was a really unique situation."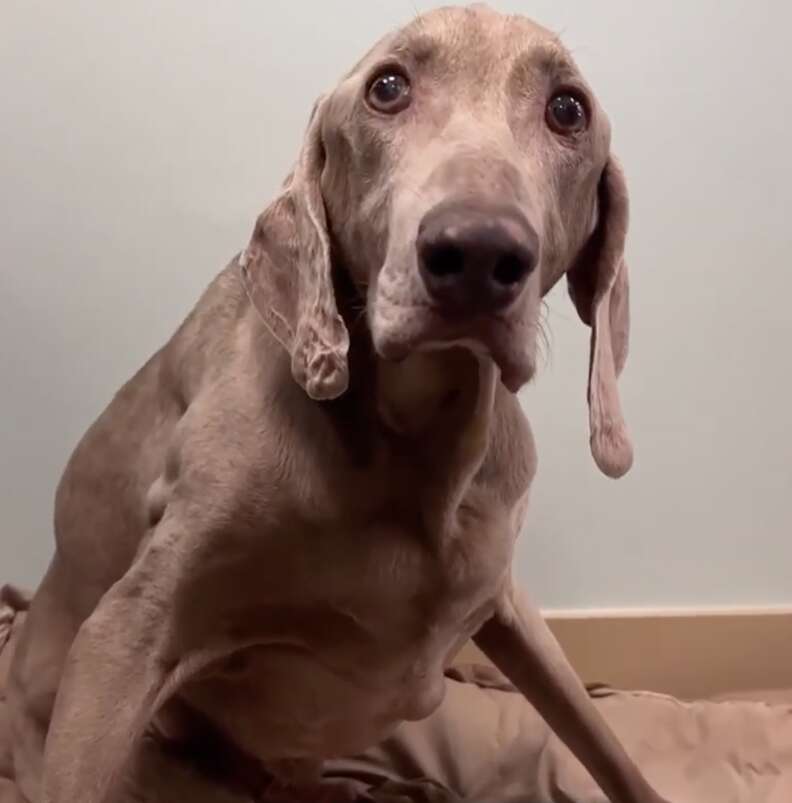 BDRR became aware of Dax when a local animal shelter reached out to them. Due to his age and size, the first shelter knew that he wouldn't thrive with them. Since BDRR is a cage-free rescue, they figured he would do best under BDRR's care.
"He would never do well in that environment, so they called us, and we met them halfway, then brought Dax back to BDRR," Rubino said.
When Dax got to the shelter, his new team of caregivers showered him with love. BDRR's director, Lauree Simmons, set up a special bed in her office just for the sweet senior pup.
"Dax surprised all of us when he got here," Rubino said. "We thought he was just going to be lying down, but he didn't do that. Instead, he picked up a bone, which became his favorite, and tried to share it with the other dogs."
Because of his age and size, Dax's mobility was limited, but that didn't stop him from making lifelong friends at BDRR. When he wasn't trying to share his toys with his fellow sheltermates, Dax could be found curled up on his bed in Simmons' office. Staff members would stop by periodically and check on him through the window.
"Dax became a little superhero in our office," Rubino said. "He had a lot of fans."
Shortly after his arrival, the staff uploaded a video introducing Dax to BDRR's followers online. Within days, they had an unprecedented amount of inquiries about the sweet, adoptable boy.
"We were inundated with hundreds and hundreds of people reaching out online to adopt Dax," Rubino said. "We really wanted to make sure to hand-pick the right person. They needed to be the perfect fit and have everything that would meet Dax's needs in what we consider his retirement or end-of-life care."
After carefully searching through the list of applicants, BDRR found the best home for Dax. Soon, the sweet boy would have a loving mom, two dog siblings and a comfortable home to spend the rest of his days in.
A few days later, BDRR drove Dax to his new house. They brought along a resident dog trainer to help Dax and his siblings adjust to each other, but the service wasn't needed at all. The trio of siblings took to each other right away.
"There were no issues with them — it was like something from above," Rubino said. "That's also so important for Dax. It renews his spirit. He's got siblings running around, and he wants to keep up."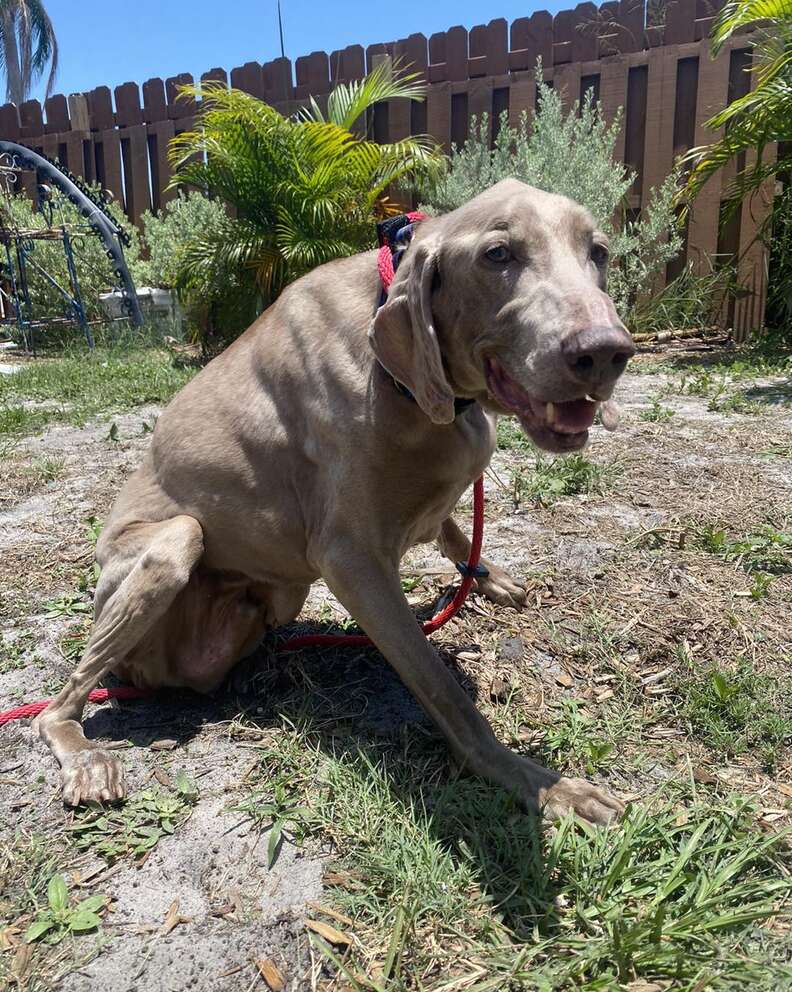 Dax keeps up with his siblings as much as his body allows him to, but, at the end of the day, he still struggles with arthritis and walking. Luckily, BDRR has promised to cover all of his medical expenses for the rest of his life, including a wheelchair and an orthopedic bed.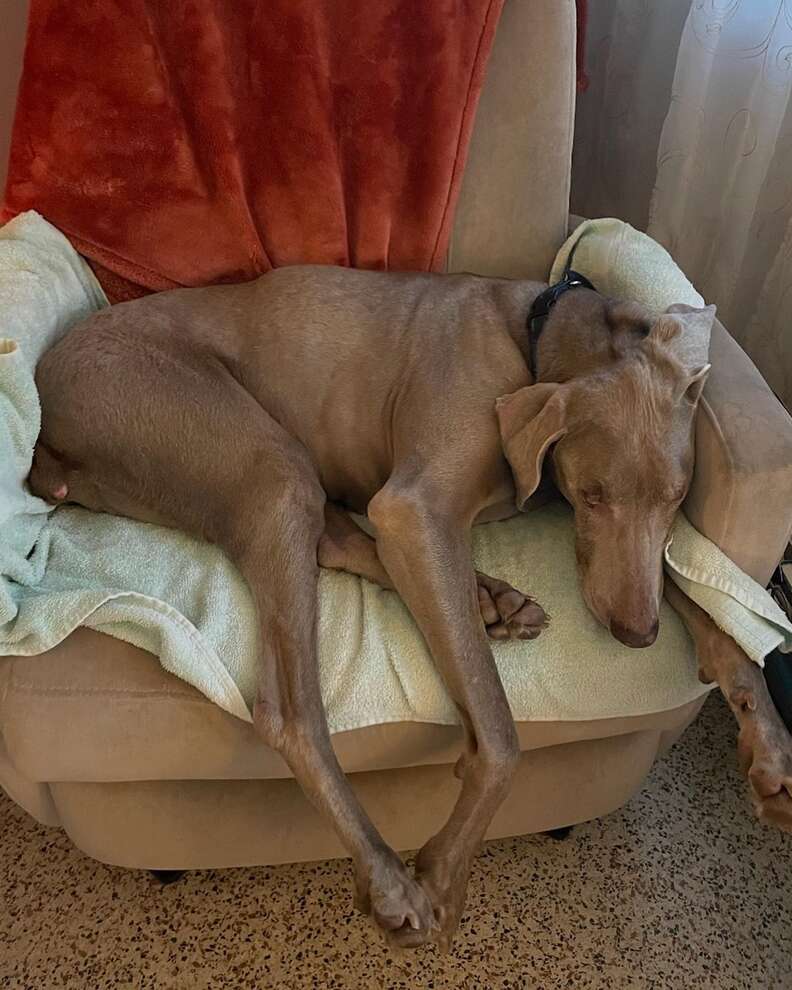 For BDRR, Dax's case is just one of many life-changing rescues. The organization saves animals from all over the world in various situations, including natural disasters, war zones and owner surrenders.
"We save about 5,000 dogs a year," Robin Friedman, BDRR's chief development officer, told The Dodo. "We go wherever we're needed, wherever dogs are in distress. Dax is a very special and unique case, but he's also an illustration of all the work that we do and all the dogs that we save."
BDRR was blown away by the overwhelming response they received to Dax's story. Even though he now has a forever home, they hope that adoptive families will consider falling in love with one of Dax's friends at the shelter.
It's impossible to know just how much time he has left, but the rest of Dax's life will undoubtedly be filled with love until the very end. The sweet boy now spends his days either swimming with his mom or sleeping on his favorite couch alongside his siblings. For Dax, life truly couldn't get any better.
And for the staff at BDRR, Dax's story couldn't be any more rewarding.
"The was a very special match for all of us here," Rubino said. "We all love him so much."
To foster or adopt a pup like Dax, you can check out BDRR's list of available adoptees
here
.
To help dogs like Dax get the care they need, you can make a donation to Big Dog Ranch Rescue here.
Help Your Senior Pup Get His Groove Back
We may earn a commission if you purchase from our links.
Help Your Senior Pup Get His Groove Back
We may earn a commission if you purchase from our links.
link