The owner of a South Boston dog training facility, a suspended firefighter in Burlington, Massachusetts, is facing animal cruelty charges after findings of cruelty and neglect.
According to a criminal complaint filed by the Animal Rescue League of Boston, Tyler Falconer is charged with three counts of animal cruelty and three counts of dog tethering/confining violation.
Falco K9 on Wadleigh Place is now closed, according to a sign on the door.
"If they had just listened to me, this wouldn't have happened to these other dogs," said Marjorie Ruggieri of Plymouth.
Ruggieri left her dog, Gulliver, in the facility's care in 2021.
"I think there are three or four dogs in this new complaint, but there's like 100 people that had terrible problems."
Ruggieri said Gulliver spent 18 days at Falco K9 and lost at least 12 pounds during that time.
"He was just emaciated," she explained. "He had bacterial infections, sores all over his body, and he was a mess, he was a mess."
Ruggieri said she tried filing a complaint with the MSPCA after picking up her Great Dane and taking him to Angell Animal Medical Center.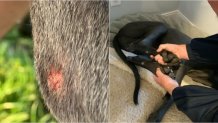 The Animal Rescue League of Boston was also contacted.
"I don't know, apparently it wasn't enough for a criminal case, so that was unfortunate," she said.
Ruggieri added that Falconer would not accept responsibility or tell her what happened.
"First he would say, 'Oh, I'm sorry,' and if you persisted, he would give you a refund. And this is the same pattern that I talked to a lot of people about," Ruggieri said. "And then if you were still angry and they had vet bills or whatever, he would pay the vet bills. And then after that, if you were still angry and wanted answers, he threatened you. In fact, he sent me a cease-and-desist order."
South Boston resident Jessica Cassidy is another dog owner who claimed having a poor experience.
"The last straw to break the camel's back was I saw a video of him on his back, nine to 10 dogs surrounding him, smelling him," Cassidy explained. "At this time, he was a little almost 2 maybe. Visibly scared."
Cassidy said she contacted Ruggieri after seeing a post about the alleged abuse on Facebook.
"Margie and I have been in contact for the past two years feeding off each other on who we can talk to next, what steps we can take next," she said.
She added that she has spoken with at least 40 other dog owners with complaints.
"A dog was impregnated while she was there, and Tyler did not own up to it, so the owner found out about it when the dog went to the vet and the vet did an ultrasound because they thought something was wrong with her," she said.
Cassidy, also an animal rescue activist, said she believes more former clients will come forward with stories.
"One hundred percent, animal abuse happened there," she said. "I know from the videos I've seen."
Falconer is due in court at the end of the month.
Burlington announced on March 9 that Falconer had been placed on paid leave amid reports of issues at Falconer's business and the investigation by the Animal Rescue League of Boston, Town Administrator Paul Sagarino said.
"Today, the Town obtained a copy of the Criminal Complaint in which the ARL charges that Falconer mistreated dogs at his business. The Town will now be determining how to proceed in that matter," Burlington said in a new statement Thursday. "Falconer remains on paid administrative leave."
link