For as long as the staff at Jackson County Animal Shelter (JCAS) have known Sassy and Shadow, the two have never spent a day apart. Sassy's a 6-year-old dog, and Shadow's a 1-year-old cat, but their bond is stronger than anything the rescue team has ever seen before. They're an unlikely pair of best friends who refuse to be apart.
A Good Samaritan found Sassy and Shadow abandoned by their family in a field. With no walls or fences to stop them, Sassy and Shadow could've parted ways as soon as they were dumped — but, instead, they stuck loyally by each other's side and looked out for one another until help arrived.
"This cat and dog were practically glued together," Lydia Sattler, JCAS's animal services director, told The Dodo. "It's really rare to see that."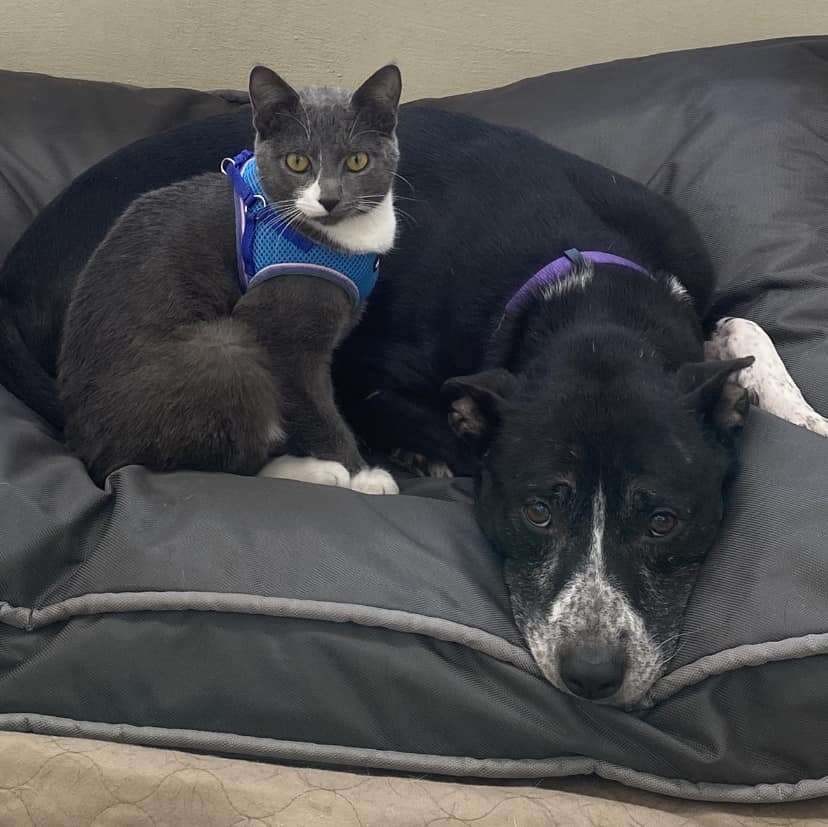 The Good Samaritan could tell that the dog hadn't eaten in a while, so he left briefly then came back with some kibble and placed it in front of the pup. He thought she'd devour the food right away, but, to his surprise, Sassy did something completely unexpected.
"The dog let the cat eat first," Sattler said. "She sat right there while the kitty was eating out of the dish and waited for him to finish before she ate. It was so sweet."
While he fed them, the man called JCAS for help catching the two animals. When a team of rescuers arrived, Sassy and Shadow didn't protest — they happily went into the van and assumed their usual position.
"As soon as we put them in the back seat of the truck, the kitty curled right up with the dog," Sattler said.
The ride to JCAS was smooth, with the two siblings resting happily side by side. The rescue team knew that the duo couldn't be separated, but they didn't realize how tricky that would be until they got to the shelter.
"When they got here, we didn't want to separate them, but we have a dog-specific room and a cat room," Sattler said. "There's a large space for multiple cat housing that was available, though, so we decided to put them in that room so that they could stay together."
As they settled into life at the shelter, Sassy and Shadow made sure to never wander too far from each other.
"Everywhere the dog went, the cat was right there with her," Sattler said. "They snuggled together every day. Every morning, our staff would walk in to see what cute thing they were doing. It was just so adorable."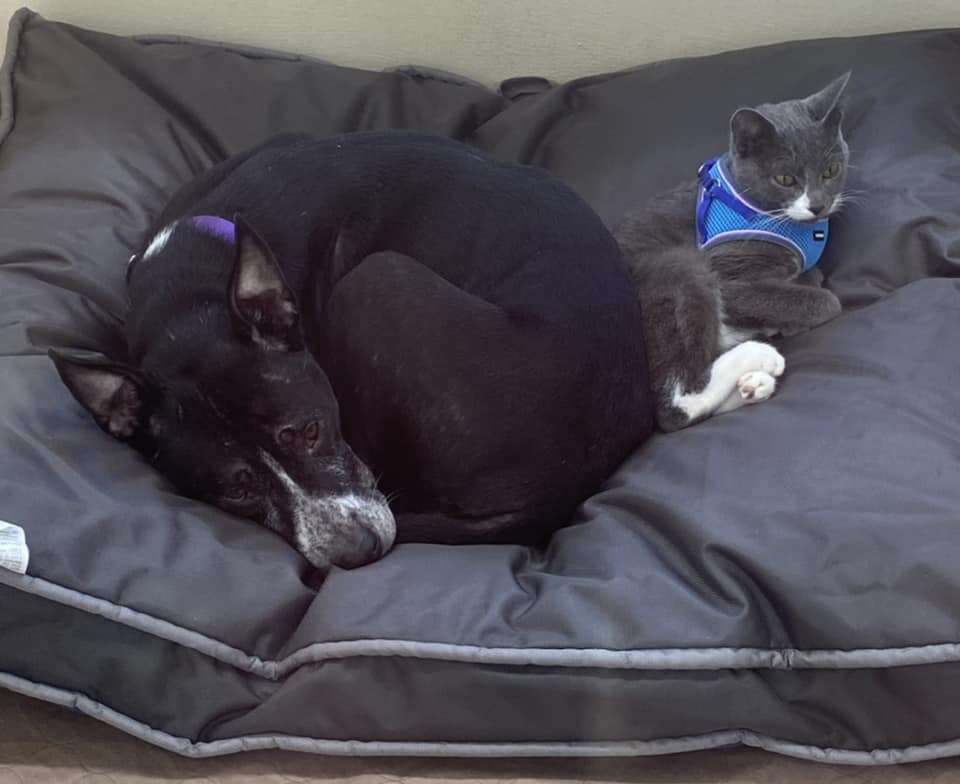 Sassy and Shadow's tight-knit bond left an impression on their friends at JCAS, who knew right away that the two needed to find a forever home together.
"Whatever they've gone through so far, they got through it together," Sattler said. "So, we knew that they needed to continue staying together."
Sattler and her team searched far and wide for Sassy and Shadow's forever home. Finally, a little over a month after they were rescued, their wish came true.
"They ended up finding a great home where they get to continue that bond that they have," Sattler said. "They're continuing to enjoy their time together, and they don't have to worry about being hungry anymore."
Sattler gets updates all the time from Sassy and Shadow's new family, and it warms her heart to see the two best friends still by each other's side. They now have a whole new life filled with fun and adventure, but one thing's stayed the same: their unconditional love for each other.
Sassy and Shadow's caregivers at JCAS miss seeing them snuggle every day, but they're so happy to know that the sweet duo is just where they need to be.
"They're getting lots of love from their family," Sattler said. "And, now, they're finally enjoying life."
To help animals like Sassy and Shadow get the care they need, you can make a donation to Jackson County Animal Shelter
here
.
Smart Buys From Companies That Help Save Animals
We may earn a commission if you purchase from our links.
Smart Buys From Companies That Help Save Animals
We may earn a commission if you purchase from our links.
link