A once emaciated dog has left the internet in tears after finding his forever home. But in a TikTok video it looks like Logan believes the news is too good to be true after being let down by humans one too many times.
At the time of filming, three-year old Logan was no stranger to the animal shelter as he had already been adopted, then returned.
Rocky Kanaka, a pet rescue advocate, told Newsweek: "Logan's return to the shelter was unfortunate but common. I see this happen at shelters everywhere."
Kanaka, who uses the TikTok handle @rockykanakaofficial, recently left the internet in tears by telling the story of Logan's emotional journey. So far, the viral clip—which was shared on August 5—has racked up 1.2 million views.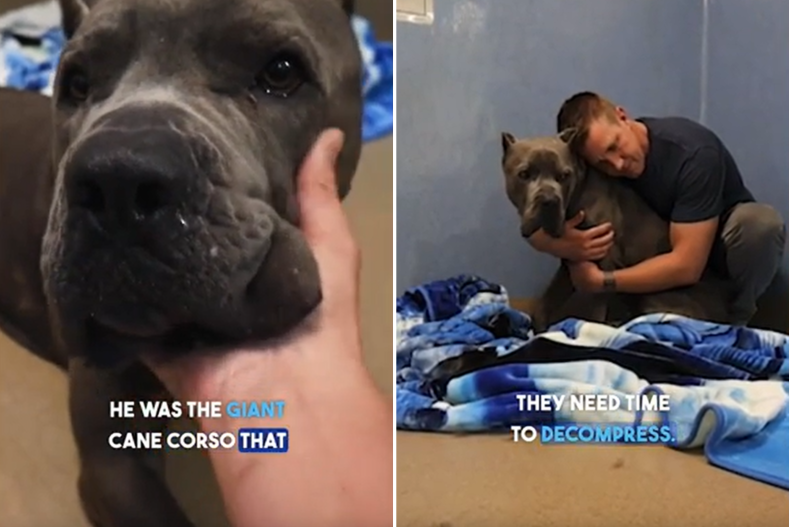 More than 6 million companion animals enter animal shelters nationwide every year and more than half of those are dogs, according to the American Society for the Prevention of Cruelty to Animals.
Initially, the cane corso was "emaciated" when he arrived at Animal Friends of the Valleys in Wildomar, California. He was adopted but shortly after returned because he "busted" out of his crate while traveling in the car.
The shelter staff can be heard saying he wasn't given a chance during the viral video. Fortunately, there is a happy ending for Logan as he was adopted three weeks later by a family-of-seven.
Kanaka told Newsweek that new owners need to be patient with their canine.
"It can take days, weeks, or months for a dog to learn a new place, family and the house rules," he said. "Any dog needs time in their new home to adjust, and especially a shelter dog. With every dog I have adopted or fostered there has always been a turning point where things just started to click and get better."
The American Kennel Club states an adult cane corso can grow to be 25 to 27.5 inches tall and weigh up to 100 pounds. Despite this, Kanaka describes Logan as a "gentle giant."
He told Newsweek: "Even though he has been treated so poorly, underfed and kept in unsafe conditions he is still willing to love and trust."
During the clip, Logan can be seen obediently playing with a little boy but he has still faced backlash from some people online.
Kanaka said: "I couldn't believe some of the comments about him being a problem because of his breed. Someone even said something like he was an illegal breed because of the amount of people they harm, which isn't true.
"Cane corso's are gentle dogs that do really well in a family setting. I know this first-hand because I have a special needs, blind, cane corso named Kobe, and he couldn't be better with my kids."
Logan received a thumbs up from his new family but it seemed like he couldn't believe his luck.
Kanaka can be heard saying in the clip "it's almost like you don't believe it" to Logan as he is filmed lying on his bed and staring into space.
"You could see in his eyes he is ready to give that love to a forever family," Kanaka told Newsweek. "All dogs are special but sometimes a dog like Logan shows up and highlights just how special dogs are and how much we can learn from them about forgiveness and learning to love and trust again."
Logan hasn't just stolen the hearts of his new family but many on the internet too. The video of the gentle giant has racked up more than 171,000 likes and 500 comments.
One user said: "I'll take him!!!"
"They just gained the most gentle loving dog breed on the planet for their family," said another.
A different TikToker said: "OK that's so sweet I am crying."
Update 08/17/23 03:02 a.m. ET: This article has been updated with a link to Rocky's website.
link