An animal shelter has spoken out after a dog was left abandoned in the dead of night, tied to the external gates of a rescue center.
Dundalk Dog Rescue in Ireland shared the heartbreaking discovery made on the morning of November 5, when a dog with no identification was found with just a leash attached to the gate and a damp red blanket.
The volunteer staff was shocked when they arrived to find the pup, who they believe is a cockapoo, in the morning with no food, water, name or note.
"No animal deserves to be treated in this way. It cannot be tolerated," Shelter volunteer Pam told Newsweek. "Our center is on a lane directly parallel to the motorway—anything could've happened."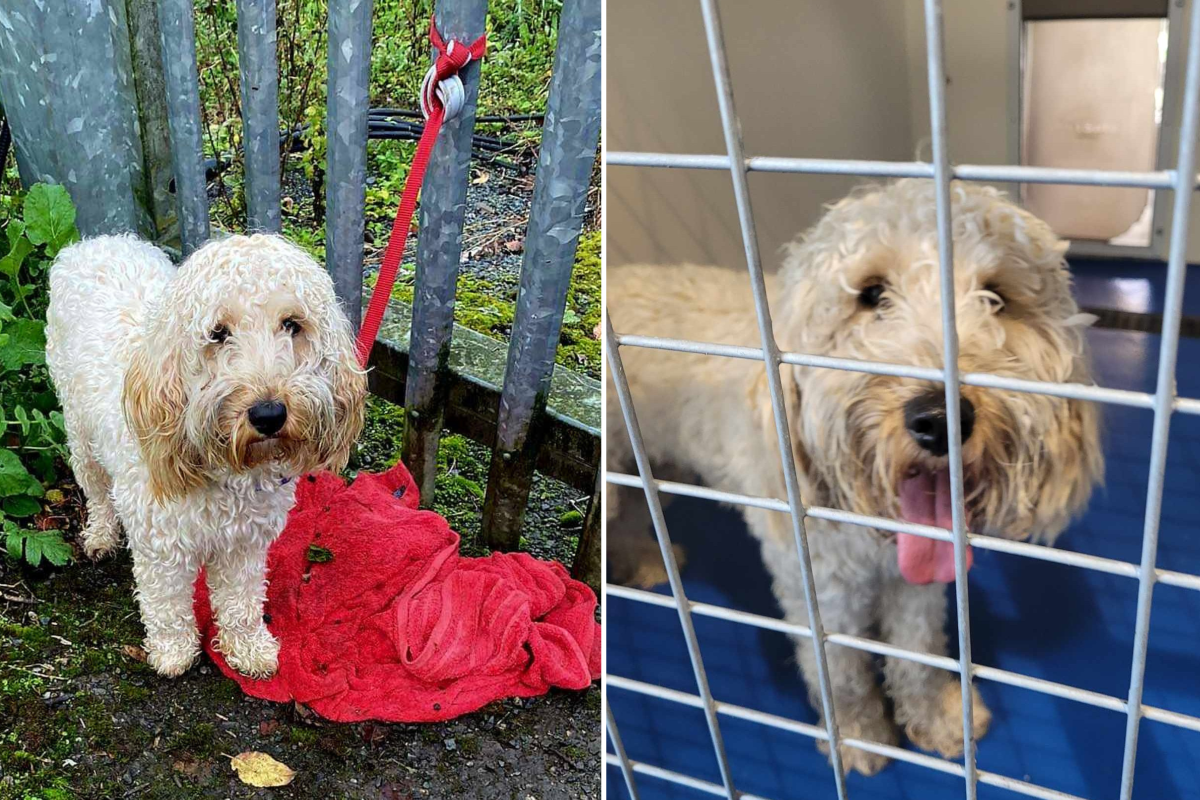 The shelter said that the dog was "alone, confused and exposed to the elements" for over nine hours until the staff arrived the next morning.
Thanks to CCTV footage, the staff could see that the dog was abandoned at 11 p.m. on Saturday and patiently waited for his owner's return. They never came back.
Despite the lack of a microchip or any identifying information, the rescue team suspects the dog is a cockapoo. The abandoned canine was provided with temporary shelter, food, and companionship until Monday morning when he had to be transferred to the pound next door.
Pam explained: "He will serve his necessary 5 days as a stray [in the] lost dog in the pound, then will be available for rehoming directly from the pound. If he's not rehomed, then he comes to our rescue. We work with the pound to give unwanted dogs a second chance."
Dundalk Dog Rescue, a small voluntary run rescue, hoped that by sharing the story, they would encourage others experiencing difficulties with their pets to reach out for help rather than resort to such heartbreaking measures.
In an impassioned plea on their Facebook page, the shelter wrote: "What sort of person leaves their home with their dog in the dead of night knowing they are not going to be bringing that dog home? What sort of person ties this young dog to a gate on the side of a busy road and motorway? What sort of person walks away?"
Volunteers had been deeply affected by the dog's heartbreaking abandonment, and they urged people to contact their local shelter rather than abandon animals.
"We offer help with owner surrenders, but currently there is a huge crisis in unwanted dogs, particularly post-COVID," said Pam. "As well as the usual pre-Christmas dumping of dogs."
Earlier this week, a dog was found abandoned at Indianapolis International Airport in a bag. Local Speedway Animal Rescue put out an appeal for any information for the dog who has been temporarily named Boeing.
Uncommon Knowledge
Newsweek is committed to challenging conventional wisdom and finding connections in the search for common ground.
Newsweek is committed to challenging conventional wisdom and finding connections in the search for common ground.
link