While most people who rescue dogs surely believe their pooches to be the cutest in all the land, not many can claim the designation is official.
But one Orange County family officially won bragging rights Friday, after People Magazine named their 5-year-old terrier, Hobie, "Cutest Rescue Dog" after a nationwide contest and vote.
"We shared [news of the contest] with our colleagues at work," said Christin Bernhardt, a Coto de Caza resident who with husband Joern Riemer adopted Hobie from the Laguna Beach Animal Shelter in July 2022.
"They went all out, and the city of Laguna Beach put him on social media — he was on Instagram and Twitter. They made it happen for Hobie, I'm really convinced of that."
News of the national win, which comes with a $1,000 donation to the nonprofit of the winning family's choosing and a year's supply of Pedigree dog food, is just the latest positive development in Hobie's amazing rags to riches tale.
As reported last month in the Daily Pilot, the story began last year on the streets of Tijuana, where rescuers found him scrounging for food at a taco stand, to the chagrin of the stand owner, who threw food at him to drive him away.
The pooch was safely picked up and transported to the shelter in Laguna Beach under the aegis of an anonymous Laguna Beach resident who regularly sends supplies to the border and works with helpers and foster families there to care for abandoned animals, according to Taylor Dunaway, an animal care specialist for the shelter.
Arriving in March 2002, the terrier was given the name Toby and quickly began adjusting to life at the facility, which operates under the jurisdiction of the Laguna Beach Police Department.
But his dramatic tale had one more twist.
"Maybe two or three days after we got him, there were indications something was wrong," Dunaway said Tuesday. "He'd had glaucoma, but then the lens in his eye had completely ruptured, so he had to have his eye removed."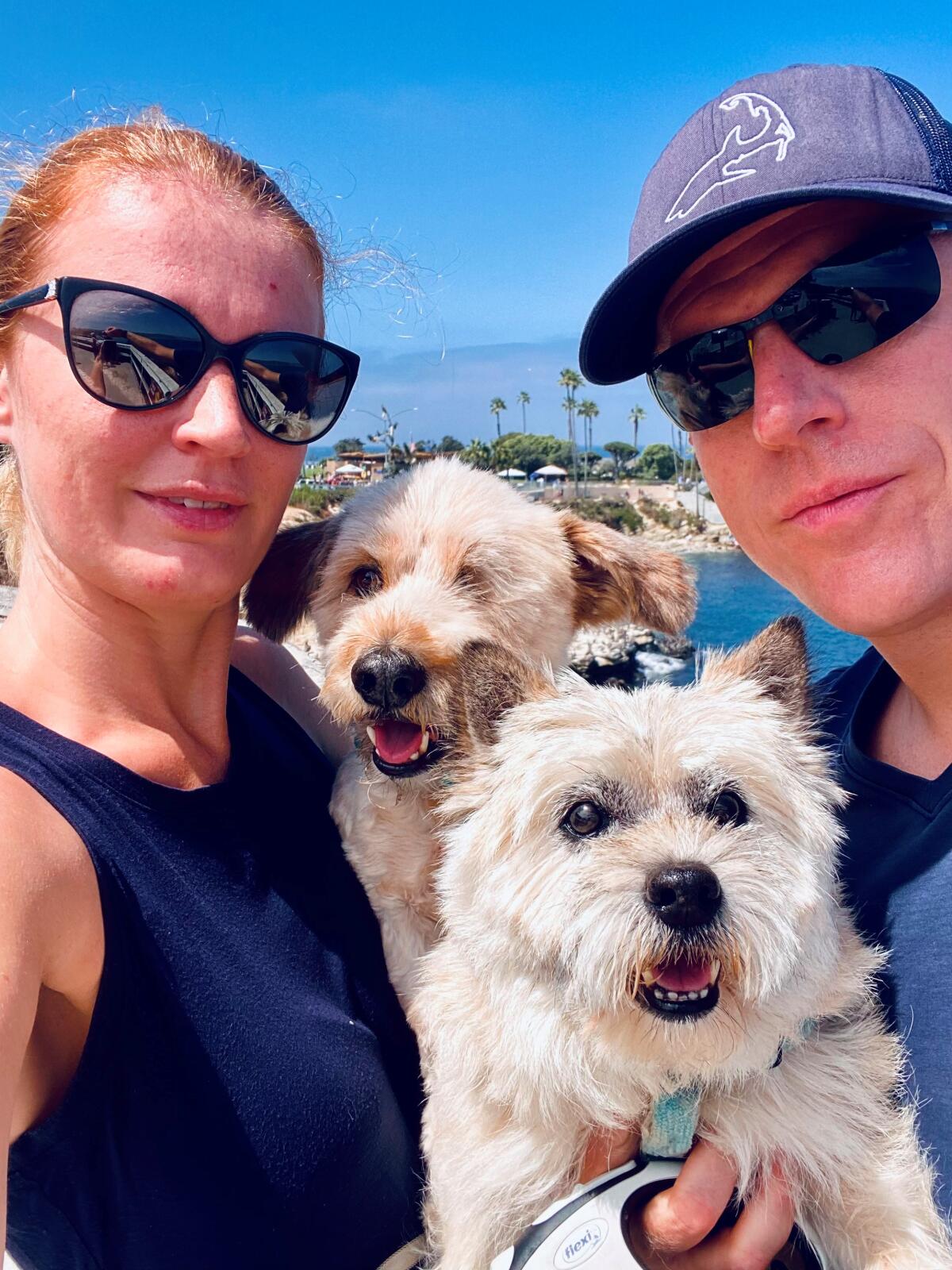 Bernhardt and Riemer came across the one-eyed canine while searching the Laguna Beach Animal Shelter website looking for a companion to their then-14-year-old Cairn terrier Zoe. In their minds and hearts, the deal was sealed.
The couple visited Toby on a near-daily basis for weeks, even bringing Zoe with them so the dog could get acclimated to the family before joining them in his new home with a new name — Hobie — inspired by the Laguna Beach surfwear shop.
These days, the terrier fits right in, enjoying regular trips to Main Beach in Laguna and back to the shelter where he made friends with staff and resident rabbit Hazel. Although Hobie is already enjoying the life of Riley, winning the "Cutest Rescue Dog" contest cranked things up a notch.
The magazine recently sent a photographer out to Orange County to conduct a photo session of Hobie with the entire family that appears in the issue out in newsstands now.
"Hobie's spunk and charm helped him triumph over 8,000 other furry contestants," People announced Friday. "He also won the heart of celebrity judge and country star Miranda Lambert, whose MuttNation Foundation raises awareness about rescue pet adoption."
After results of the contest were released to the public on Friday, the Orange County canine took a short trip to the Universal Studios lot to film a segment with "Access Hollywood" hosts Kit Hoover and Mario Lopez.
"We have now started a little Instagram account for him, so he's growing his followers," Bernhardt said of Hobie's brush with celebrity, documented at hobie_sandypawz. "I think his story resonates because it's kind of a bit like the American dream."
Riemer and Bernhardt plan to donate Hobie's $1,000 prize to Pup Laguna Beach, the nonprofit fundraising arm of the shelter, which allows for the continued care and treatment of animals.
Dunaway said she hopes news of the contest, which is really a win for shelter dogs, helps open people's eyes to the joys of animal rescue.
"Hopefully this will help deter people from going to breeders," she added. "There are plenty of adoptable dogs at the shelter."

link