A rescue dog who spent more than 600 days in an animal shelter has finally been adopted.
Newsweek previously reported on the plight of Cheeks, a six-year-old mixed breed who had been in the care of McKamey Animal Shelter in Chattanooga, Tennessee, since January 2022.
During that time he had twice been adopted only to be returned on both occasions through no fault of his own. It was beginning to get Cheeks down.
"Cheeks used to pop up and greet you at the door to his kennel area right away, now he doesn't always," Lauren Mann, director of advancement at the center told Newsweek at the time. "He's not excited when people walk by and is often found laying in his bed looking out the window just waiting for someone to adopt him."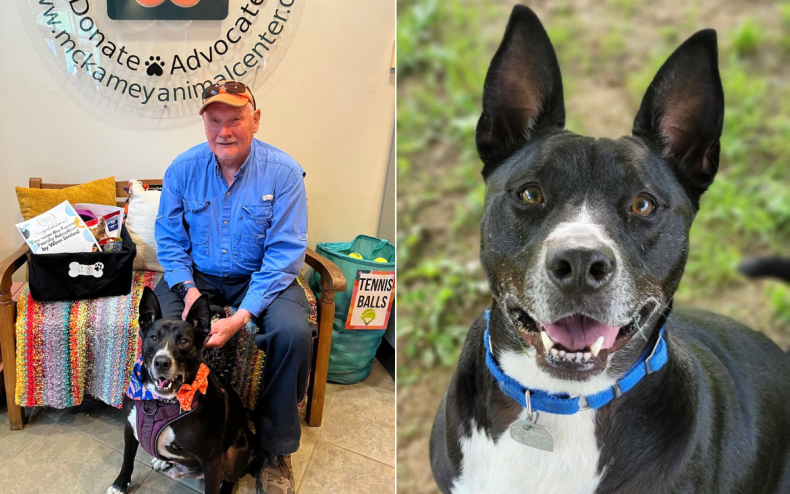 Cheeks wasn't alone in experiencing this kind of heartache. Each year, 6.3 million pets are surrendered to U.S. shelters, at an average of 17,260 a day, according to the American Society for the Prevention of Cruelty to Animals.
The number of dogs and cats taken in by pet shelters hit 46,807 during January 2023, an increase of 1,744 compared with January 2022, 24Petwatch's Shelter Watch Report found. Around 920,000 surrendered animals are euthanized every year.
Shelters are striving to minimize euthanasia rates by promoting adoption campaigns, spaying and neutering programs and with behavior rehabilitation.
While facilities like McKamey Animal Shelter would never euthanize a dog for matters related to space or time, some older canines face a longer wait than others to find their forever home.
But for Cheeks, that wait is now over after he was finally adopted, some 625 days after he first arrived. According to Mann, the gentleman adopting Cheeks was "extremely moved" after reading about his plight on Newsweek.
"Cheeks looked very similar to his dog that had passed away earlier this year and he said he felt instantly connected to him," she told Newsweek. "He called our team to learn a little bit more about him, and then said he would be there soon, as he was going to get on a plane from Oregon."
Given that the distance between Oregon, where he was based, and Tennessee, where Cheeks resided, was some 2,250 miles, staff were initially skeptical.
"We were shocked and didn't believe he would actually show up," Mann said. "We received many emails and calls from people all over the country, but nobody had actually come in to meet him yet."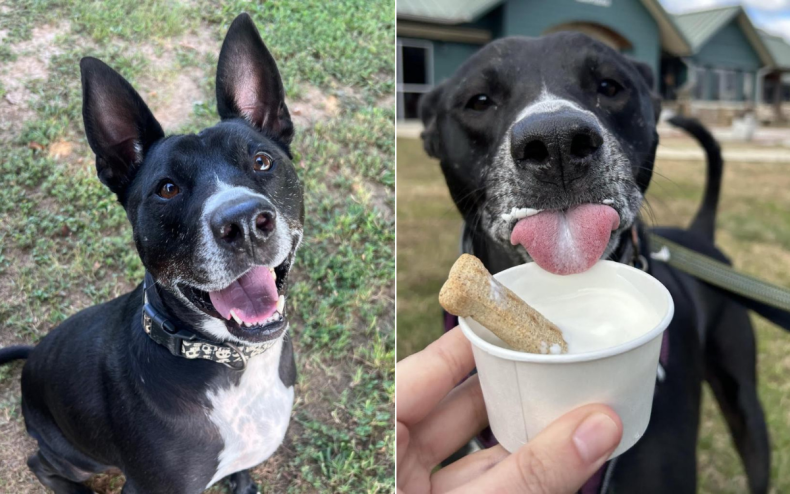 The dog lover was true to his word, though, and he was soon at the center and ready to meet Cheeks for the first time.
"It was love at first sight," Mann said. "They spent almost a full hour together, went through our counseling process, and the stars had truly aligned – it was a perfect match."
Once everything was signed and sealed, Cheeks headed off with his new owner and a new adventure – a cross-country road trip back to Oregon in a rented minivan. "Everyone shed many happy tears as they set off," Mann said.
Ultimately, Mann hopes Cheeks' story sends a message to animal shelter staff, volunteers and prospective pet owners. "There is still hope out there for the thousands of shelter pets waiting to be adopted," she said. "Every dog deserves a chance to find their forever family, it just takes a very special person sometimes!"
Do you have funny and adorable videos or pictures of your pet you want to share? Send them to [email protected] with some details about your best friend and they could appear in our Pet of the Week lineup.
link