A dog has spent more than 800 days at a Colorado animal shelter while waiting for a loving family to care for him.
French mastiff Simba has spent more than two years at the MaxFund dog shelter in Denver hoping that a family will decide to bring him home with them. The shelter said in a Thursday, August 17, Facebook post that while three-year-old Simba doesn't necessarily do well with other dogs, it "doesn't mean he's a bad dog."
"This 100lb snuggly boy is adored by so many, and he even has his own suite inside our dog shelter," it said. "To find his perfect match, Simba just needs someone who understands he's a unique boy looking for unique care."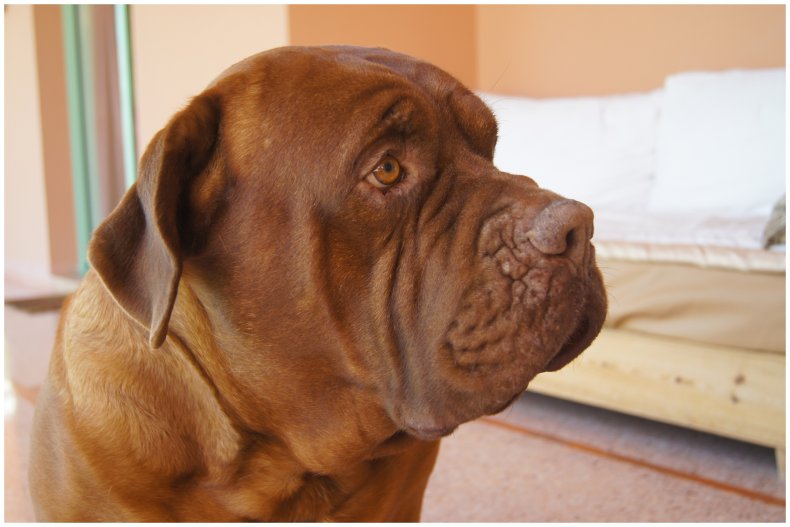 "While Simba does not get along with all dogs and would do best as the only dog in the household, that doesn't mean he's a bad dog."
The post continued: "Don't forget: Dogs who don't enjoy all other dogs aren't flawed. They just need different care than others, but they're just as awesome."
Since being shared online, the post attracted more than 500 reactions, the majority of which were the "care," "love" and like emojis.
According to the American Society for the Protection of Cruelty to Animals (ASPCA), there are approximately 6.3 million companion animals that enter U.S. animal shelters each year.
"Of those, approximately 3.1 million are dogs and 3.2 million are cats," it says. "We estimate that the number of dogs and cats entering U.S. shelters annually has declined from approximately 7.2 million in 2011. The biggest decline was in dogs (from 3.9 million to 3.1 million)."
According to MaxFund, the shelter operates with a "non-profit, no kill" policy and was founded in 1988.
The shelter added it takes in injured animals with no known owner and then try to "find loving forever homes" for them once they have recovered.
Anyone who is interested in inquiring about Simba can contact the shelter at 303-595-4917, or via email at dogadoptioncenter@maxfund.
Newsweek has contacted MaxFund for comment via email.
There have been other instances where Newsweek has reported on dogs looking for their forever homes while in animal shelters.
Last week, an animal shelter in Pennsylvania shared the story of a five-year-old American Staffordshire terrier named Cobie who has waited three years to get adopted.
Gillian Kocher from Pennsylvania SPCA, which works alongside Main Line Animal Rescue, previously told Newsweek that Cobie "loves to see his friends."
link