A dog who suffered the heartbreak of being adopted before ultimately returning to the animal shelter she came from, aged 10, has been given a new lease of life as an unofficial "therapy dog" for her new forever family.
Despite Zoey's advancing years, Carmen Hidalgo Kirschner, Best Friends Animal Society lifesaving-outcomes specialist in Los Angeles, was always confident she would find a home.
"A senior animal has so much love to give, and adopting one can be rewarding and fulfilling," she said. "They can be easier to integrate into your household and life, as most seniors don't demand much and are perfectly happy with a comfy bed and a nice window view."
Zoey was aged 2 when she first came into the care of the Best Friends Animal Society, a national animal welfare organization dedicated to ending the killing of dogs and cats in America's shelters by 2025. The American Society for the Prevention of Cruelty to Animals (ASPCA) estimates as many as 3.1 million dogs wind up in an animal shelter and Zoey was no exception, having first landed in a facility in Los Angeles.
Zoey was adopted soon after and, for the longest time, it seemed as though she was destined to live out a long and happy life with her new forever family.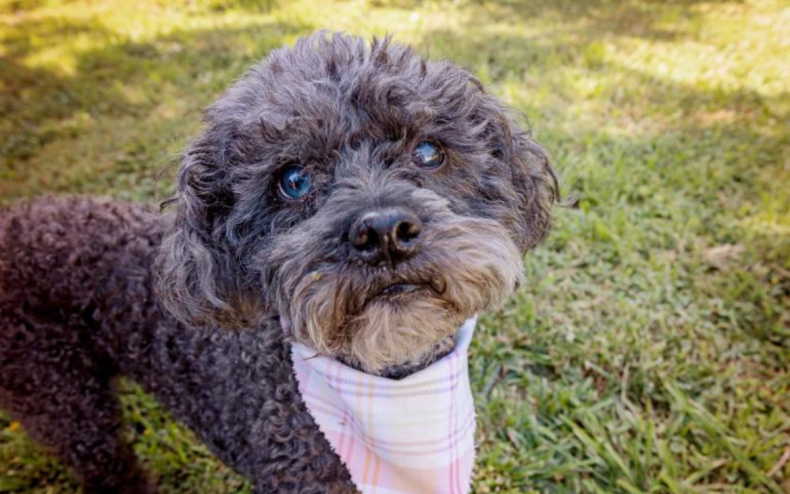 Unforeseen circumstances led to her ultimately returning to Best Friends at the age of 10. Senior dogs often face an uphill battle to be adopted with Pet Pardon, an organization campaigning to bring an end to the use of kill shelters, estimating older dogs spend up to four times longer in shelters than younger ones.
Zoey's situation was made even more difficult by the fact that she had developed cataracts and glaucoma, as well as an enlarged liver. But previous stories have shown senior dogs are more than worthy of a second chance and Zoey was no different.
Initially, Best Friends organized for her to stay in a foster home, fearing the environment of the shelter would prove too stressful. It would also provide a chance for staff to learn more about her and find the right family.
That was when Cristina Nieto and her family came in. Knowing she did not have the time for a puppy, Nieto was keen to adopt an adult dog, seeing it as an opportunity for her kids, Julianna, 15, and Adan, 8, to "get used to caring for an animal without having to go through the rigorous training that puppies take."
Searching through the dogs available for adoption on the Best Friends website, Nieto immediately honed in on Zoey, having noted "her cute curls and bearlike face." Having spent years giving her mom's dogs medication for similar health issues, Nieto had no qualms about taking on Zoey. Any lingering doubts were erased the moment they met Zoey and the two parties took an instant shine to one another.
They have lived in peaceful coexistence ever since. Zoey loves to explore the family's large garden, enjoys going on walks and is a deep and happy sleeper. But there's more to it—Zoey has brought calm to the Zieto household.
At night, she sleeps in Adan's bed, helping him enjoy a good night's rest. "Adan tends to be hyper before bed, but Zoey helps reduce his anxiety and calms him," Nieto explained.
Zoey has also been a rock for the family since May when Zieto's father, the kids' grandfather, was diagnosed with cancer. "Zoey has brought a different level of comfort we didn't know we needed," Nieto said.
This has been especially helpful with the kids who have turned to their beloved dog for support on many occasions over the past few weeks. "When they're down and stressed, just petting her and rubbing her belly has given them a sense of comfort and love," Nieto said.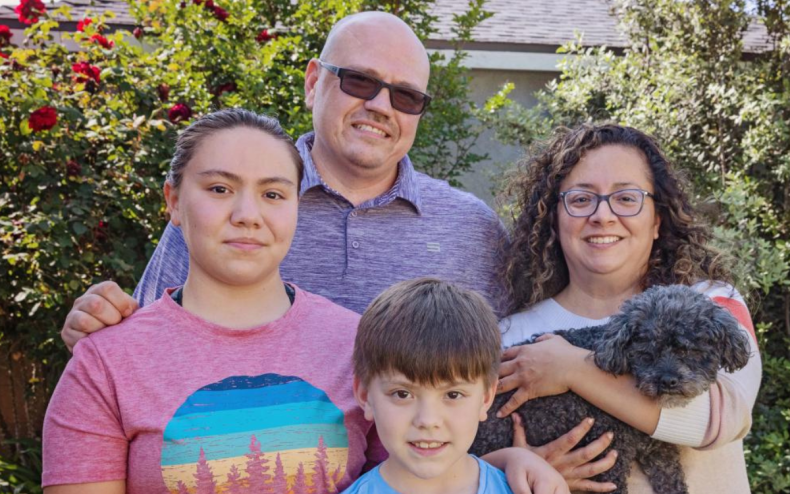 Brittany Thorn, executive director of Best Friends Animal Society in Los Angeles, told Newsweek: "Ten-year-old Zoey's story proves that senior dogs are one-of-a-kind and a lot of that comes from the wisdom gained throughout the years. This sweet senior is the one offering care and companionship to her newly adopted family. Zoey helps reduce the kids' anxiety and is helping the entire family cope with their grandfather's recent cancer diagnosis by offering love, comfort and wisdom that only a senior can give."
Thorn added that while Zoey's story is an inspiring one and a reminder of how amazing senior pets are, it's also a prime example of "what No-Kill shelters do best." According to data compiled by Best Friends, approximately 378,000 dogs and cats were killed in U.S. shelters in 2022 because they had not been rehomed. There were 1 million reportedly killed in 2016.
"No-kill means saving every dog or cat in a shelter who can be saved," she explained. "Community safety and good quality of life for pets are guiding principles of the no-kill philosophy and are attainable when animal welfare professionals engage in best practices and protocols, like this. Had Zoey ended up in another shelter that did not have the programmatic elements to follow in order to save lives, she may have been killed simply for ending up in the wrong place at the wrong time."
Do you have funny and adorable videos or pictures of your pet you want to share? Send them to [email protected] with some details about your best friend and they could appear in our Pet of the Week lineup.
link