An animal shelter worker has highlighted the worrying transformation one dog has gone through after spending over 600 days there.
Kilowatt the pit bull mix has now been living at Valley Animal Center in Fresno, California, for more than half of her life—and it is starting to show.
In a video posted to TikTok by Jackie Gonzalez, a dog care associate at the facility, viewers can see the contrast in Kilowatt's appearance on her first day at the shelter compared with her again after 606 days there.
The energy and exuberance that was present on arrival appears to have dissipated, with Kilowatt instead appearing quiet and withdrawn.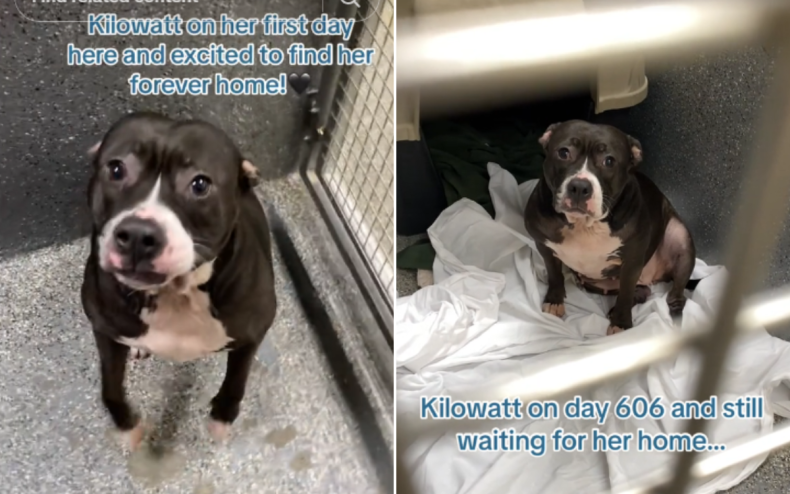 On her first day, she seemed like a big ball of energy, bouncing up and down with excitement but by day 606 she's sitting meekly at the back of her enclosure, not even willing to come forward and say hello.
Gonzalez is at a loss to explain why Kilowatt has yet to be adopted. "I think she's just been overlooked," she told Newsweek. "Honestly, there's no real reason to explain it, because she's a great dog."
Sadly, stories like Kilowatt's are increasingly common as the number of dogs being surrendered in the U.S. continues to rise while the adoption rates fall.
Each year, 6.3 million pets are surrendered to U.S. shelters, which is an average of 17,260 a day, according to the American Society for the Prevention of Cruelty to Animals.
The number of dogs and cats taken in by pet shelters hit 46,807 during January 2023, an increase of 1,744 compared with January 2022, the 24Pet Shelter Watch Report found. Around 920,000 surrendered animals are euthanized every year. Shelters are striving to minimize euthanasia rates by promoting adoption campaigns, spaying and neutering programs, and behavior rehabilitation.
However, finding them a home can often come down to a chance encounter and a prospective pet's ability to catch the eye of a potential owner.
This was best highlighted in a 2014 study published in Applied Animal Behavior Science which examined interactions between shelter pets and potential adoptees.
The study concluded that most prospective pet owners interacted with just one dog during their visits and that these interactions lasted an average of just eight minutes. That's a small amount of time to make a big impression.
Kilowatt may not have got there yet, but Gonzalez is adamant she has all the necessary attributes to make a great family pet. "Kilo loves to go on walks and she loves tennis balls," Gonzalez said. "She does great around kids and other people in general. She does have some allergies though."
Gonzalez acknowledges that spending such a long time at the shelter is beginning to impact Kilowatt negatively, but she said staff there are going all out to support her and other dogs like her. "All our dogs get stressed in the kennel after being here for so long," she said. "We help her avoid getting depressed or stressed by taking her out on hikes and out along the river as well as taking her to our own dog park at the facility."
Gonzalez posted the video of Kilowatt to TikTok in the hope it would shine a light on her situation and it certainly appears to be doing that, with the clip garnering over 1.5 million views.
She's now hoping that will pave the way to Kilowatt finding a new owner. "She needs a quiet home," Gonzalez said. "Preferably no other animals would be great but she does well with other pets, provided they are introduced slowly."
After spending more than half of her life living in a shelter, few would begrudge her that.
Do you have funny and adorable videos or pictures of your pet you want to share? Send them to life@newsweek.com with some details about your best friend, and they could appear in our Pet of the Week lineup.
link