A video of a senior dog that has remained at a shelter for 632 days has gone viral on TikTok, where it has received 1.3 million views.
The clip was posted on June 19 by Julie Saraceno (@juliesaraceno2), a graphic designer and photographer based in Pasco, Washington. Saraceno is an animal-shelter volunteer, according to her Instagram bio.
A message overlaid on the TikTok clip reads: "POV [point of view] You're a senior dog with special needs who has been a shelter dog for 632 days and nobody wants to take you home."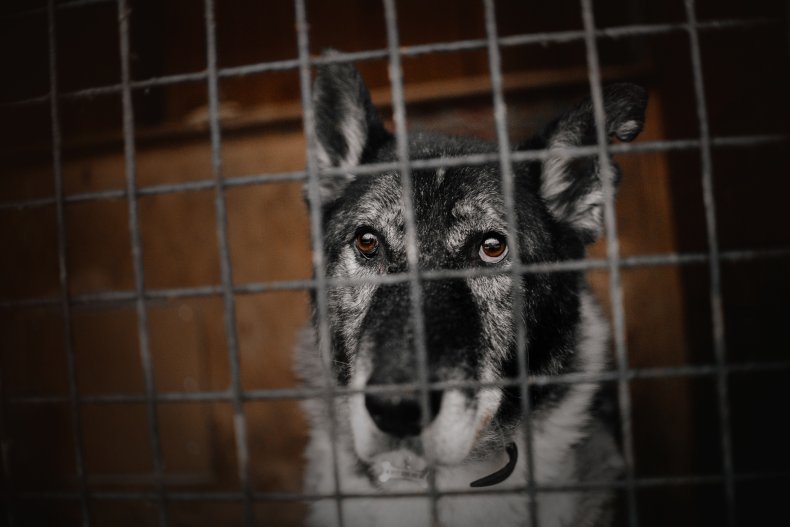 Around 6.3 million companion animals enter shelters across the country, including some 3.1 million dogs. This is according to 2019 data compiled by the American Society for the Prevention of Cruelty to Animals. Of the dogs entering shelters, around 65 percent are adopted, while 13 percent are euthanized, the ASPCA says.
The latest footage was captured at the Benton-Franklin Humane Society in Kennewick, Washington. It shows Snoopy, the senior dog, laying inside a cage. He is seen hunched over a blanket, with his head to the floor. Barking from other dogs can be heard in the background.
A caption shared with the post reads: "Snoopy is looking for an end of life foster or adopter. He has Cushing's disease, so he has problems with his vision, hearing and weight. Please share so we can find the right person for him."
Cushing's disease is a condition where a dog's adrenal glands overproduce certain hormones, according to veterinarians Malcolm Weir and Ernest Ward in an article for VCA, one of North America's largest animal-hospital chains. Located near the kidneys, the adrenal glands produce several vital substances that regulate various body functions and are required to sustain life.
"The most widely known of these substances is cortisol, commonly known as cortisone. Decreased or excessive production of these substances, especially cortisol, may be life-threatening," Weir and Ward wrote.
The latest clip has broken the hearts of users on TikTok. User nikkipeery simply wrote, "Heartbreaking," while user5071682639074 posted: "Oh sweet boy."
Kelo Pinok commented: "Please someone adopt this beautiful baby."
User seasunnies posted: "Aww the baby!! Praying he gets adopted soon!!"
Karrisa wrote: "I hope you find a good loving home. You deserve it."
Newsweek has contacted the original poster for comment via TikTok and Instagram.
Do you have funny or heartwarming videos/pictures of your pet to share? Send them to [email protected] with some details about your best friend, and they could appear in our Pet of the Week lineup.

link