A dog that was surrendered to a North Carolina shelter has eyes filled with confusion and is "starving for attention."
The nearly 2-year-old American bulldog mix named Diesel was brought into the Bladen County Animal Shelter on October 25 with his intake card saying he was unwanted.
Although Diesel is relatively new at the shelter and not at a high risk of being euthanized, space is limited and the shelter might have to make a decision soon, said Silvia Kim, co-founder of A Shelter Friend.
Kim and her nonprofit partner with the animal shelter to help connect animals to forever homes. And Diesel is Kim's next mission.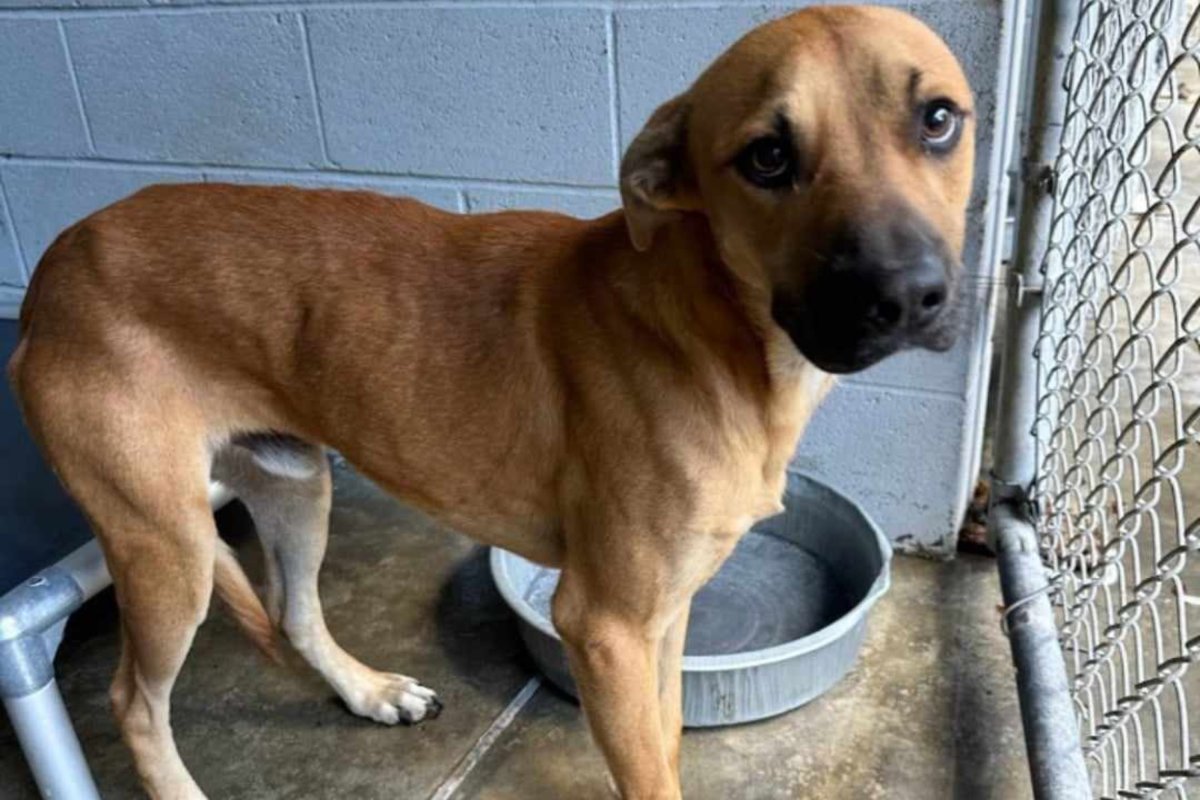 "I'm surprised he hasn't been adopted yet because he's had over 700 shares on our page and he's had tons of likes," Kim told Newsweek. "I just don't understand why he hasn't had any activity."
The November 12 Facebook post had viewers expressing frustration with the previous owner, while others were sending their best wishes for a happy ending.
"Awwww, you are wanted sweet boy. I wish I had room for them all. Pledges 2.00 for this baby boy," said one commenter.
Another person wrote: "They should never be allowed to own ANY pets even again. Shared. Someone please help this poor baby."
Kim said Diesel was tested to see how he would behave with other dogs, and he excelled. She said she feels comfortable with him going to a family with another dog.
"He hasn't been housebroken, but from my experience, adults learn much faster than puppies," Kim said. Plus, Diesel is the biggest lover. Whenever she goes into his kennel, all he wants to do is kiss her.
A Shelter Friend works as a liaison to provide visibility for animals in the southeastern part of North Carolina that need forever homes. The nonprofit assists with coordinating rescue efforts, veterinary care and transports. Kim said they are planning a transport up to Canada soon.
"If I can clear one dog out, it saves that dog but it also clears space for another," she said.
In her 16 years in this line of work, she's never seen the shelter system so bad.
Each year, 6.3 million pets are surrendered to U.S. shelters, for an average of 17,260 a day, according to the American Society for the Prevention of Cruelty to Animals. The number of dogs and cats taken in by pet shelters hit 46,807 during January 2023, an increase of 1,744 compared with January 2022, 24Petwatch's Shelter Watch Report found.
Around 920,000 surrendered animals are euthanized every year. Shelters are striving to minimize euthanasia rates by promoting adoption campaigns, spaying and neutering programs and behavior rehabilitation.
Do you have funny and adorable videos or pictures of your pet you want to share? Send them to [email protected] with some details about your best friend and they could appear in our Pet of the Week lineup.
Uncommon Knowledge
Newsweek is committed to challenging conventional wisdom and finding connections in the search for common ground.
Newsweek is committed to challenging conventional wisdom and finding connections in the search for common ground.
link